THE WALTER AND FIONA GOETZ COLLECTION AT BELLMANS
13 March 2023

Walter Goetz (1911-1995) was born into a family of German cotton mill owners whose collection was so great it was partly sold after WWI to pay the British war reparations. Little did they know, that some twenty years later they would be fleeing Germany to escape the Nazi regime. Fortunately for Walter, his English public-school education and artistic flair would prove useful to both the BBC and British government. He spent most of WWII with the secret Political Warfare Executive in designing posters to be airdropped over Germany informing civilians of the horrors of the Third Reich. Goetz even loaned his voice as the translated Neville Chamberlain when war was declared on the BBC German radio broadcast. It was only in his later years that Walter spoke of being chosen to visit Hitler's bunker, as a trustworthy German speaking Jew with an eye for a good picture, to assess the Führer's personal art collection. This was onto of guiding the Allied Generals around his native, yet now ruined Berlin. Whilst it is clear he socialised and worked within intelligence and espionage circles with the likes of George (later Lord) Weidenfeld, Sefton Delmer, Alan Moorhead, Alistair Horne and Beresford Clark, the extent of his own work as a spy is yet to be fully discovered. Given his artistic training was 'cut short' in Berlin, Walter felt that he never had quite the skill to paint full time, though soon saw a promising career as a cartoonist and illustrator, with commissions arriving from the then art filled magazines of Vogue , Harpers Bazaar , Lilliput and Punch . He also designed posters for Transport for London, book jackets for his widening cultured social circle and perhaps most famously illustrated Pierre Daninos's 'Major Thompson' series of books about a typical English gentleman. He still painted, with exhibitions held at The New Art Centre and Michael Parkin Gallery, though most of his income lately came from dealing in Old Master and Impressionist paintings and sketches.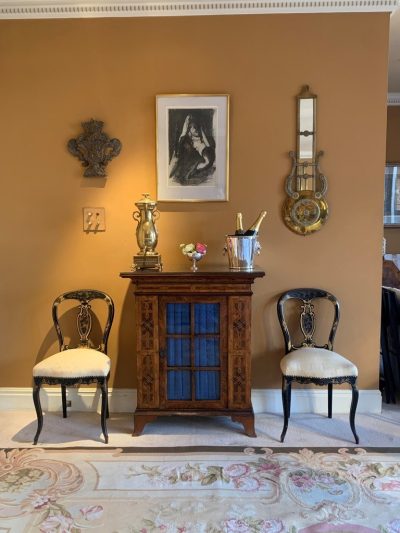 After WWII, Walter spent most of his time in a Parisian apartment in the fashionable 7th arrondissement, where he mingled with the likes of Picasso, Dufy, Utrillo, Osbert Lancaster and John Piper. Meeting John Piper was possibly the most fruitful of his artistic relationships, the pair often painted together in Wales and Walter was instrumental in overseeing the licensing of Piper's artwork into signed limited edition prints. The name Goetz appears in most books written either by or about John Piper. Perhaps a 'perk' of this friendship was that Walter often had first access to purchase many of Piper's works and Bellmans will be offering an artist's proof given of a female nude later this year. (as photographed above in the drawing room)
From just a cursory glance at Walter's stock books, the names of artists reads like a museum collection; Degas, Delacroix, Picasso, Pissaro, Renoir, Cezanne, Dufy, Manet, Monet, and Gericault, the list continues. He was asked to consult on works in both private and public institutions both in the UK and abroad. Bellmans are delighted to offer a selection of sketches and prints by or after artists including John Piper, Pablo Picasso, Louis-Leopold Boilly and Constantin Guys, all which retain Goetz collection labels verso to ensure the provenance is not forgotten.
In addition to several works on paper, Bellmans are offering a selection of fine decorative arts and furniture from Fiona's Knightsbridge penthouse. A selection of silver (some of which would have been brought out from Germany by Walter's parents fleeing the Nazis), antique furniture, lighting, textiles and porcelain is offered in the March auctions at Bellmans.
With a penchant for attractive blond aristocrats, it was third time lucky when Walter married Fiona Muir (1938-2021) - daughter of Sir. John Muir Bt. Fiona's taste for travel started at an early age, born in Calcutta, the family returned to Scotland just after VE Day, travelling via South Africa to avoid attack from any returning U-boats. After being presented at court in 1956 and a coming out party with over three hundred guests, she was told university just wasn't an option with several younger brothers to educate, so set sail for Brazil to work at the British Embassy. Early life at the majestic Blair Drummond castle however did train her as a fine cook and vivacious hostess with an eye for beautiful objects and works of art. Attracted to the glamorous and intellectual life that being an art dealer's wife had to offer, she was regularly called upon to entertain Walter's international clients and will be fondly remembered for her sumptuous soirees and delicious dinner parties. A woman of impeccable yet comfortable taste, she would decorate their London and Paris homes - dividing their calendar according to the art market - as well as advising clients and friends on interior decoration.
Fiona later worked at the Victoria and Albert Museum helping to establish their 'Boiler House' galleries and occasionally worked as a travel guide with the luxury tour provider Serenissima, escorting groups as far as Egypt, Mongolia and her native India. A selfless lady in many ways, she later cared for her dying husband, aunt, mother and sister along with many others and loyally supported numerous charitable causes.
The majority of the collection will be sold at Bellmans in our March Interiors and Friday 500 sales, however more items are to be offered in our May Fine Jewellery, and future Old Masters and Modern British auctions.
Harrison Goldman (March 2023)
Harrison Goldman ASFAV is an auctioneer and valuer at Bellmans who runs our London office at 4 Cromwell Place, South Kensington. He was a close friend of Fiona Goetz and is working on a biography of Walter Goetz.