The Hylda and Lewis Gilbert Collection of Furniture and Works of Art
Bellmans is pleased to announce the auction of The Hylda & Lewis Gilbert Collection on Tuesday, 16th and Thursday, 18th November 2021, in West Sussex. The Gilbert Collection from Sheldrake Place, Kensington, includes a substantial Asian Works of Art collection, but also furniture, paintings, miniatures, porcelain and some jewellery and accessories.
Film Director, Producer and Screenwriter Lewis Gilbert (1920-2018), best known for his 007 movies and Alfie, was married to his wife Hylda (1919-2005) for 53 years. Born into an antique dealer's family, Hylda a beautiful, supportive, elegant film director's wife had a career in modelling, but as a theatre lover she was actively involved in spotting potential future films for her husband, a number of which ranked amongst Lewis' most successful titles.
When Sheldrake Place was built in the mid-1950s in the tranquil backwater at the top of Phillimore Gardens, a stone's throw from Holland Park, Hylda Gilbert bought a plot off plan while they were both out in Hong Kong shooting a film with Orson Welles. On their return Hylda created a home for her husband Lewis, where they entertained many of the great and glamorous figures of the film world. Lewis Gilbert became one of the most distinguished English film directors and their partnership was a truly creative, striking and outstanding one, as this auction testifies in so many ways. The oasis Hylda created at Sheldrake Place remained absolutely untouched for more than 60 years until Bellmans were commissioned to sell her collections in 2021, sixteen years after her death.
Hylda had antiques in her blood. Born Hylda Tafler, she had gone to St. Mary's Abbot Primary school in Kensington Church Court near to her father Mark Tafler's fashionable antique shop in Kensington Church Street. Her passion for antiques, eclectic taste and connoisseurship was inherited from her father. His clientele included H.M. Queen Mary, whose keen eye for antiques is well known and the exquisite Gladys, Duchess of Marlborough. Her eye was exceptional, she created an extraordinary cornucopia of wonderful things and amusing curiosities that reflected her wide-ranging interests.
Selected highlights of the auction include a collection of exquisite miniatures featuring a lot by John Smart, an assemblage of Sevres-style plaques, an unusual pair of early Victorian carved giltwood sofas on splendid lion monopodia supports in the manner of Gillows of Lancaster, a Dutch mahogany silver canteen, lavishly mounted in ormolu containing many delightful silver trinkets and bagatelles and an Indian gold oval repousse locket with a fine miniature of the Taj Mahal.
Each and every treasure lovingly chosen by Hylda herself, created such a fantastic Aladdin's cave and showed just how much she enjoyed displaying so many singular objects of art and antiques and placing them in an almost operatic setting that mirrored her delight in the unusual and amusing.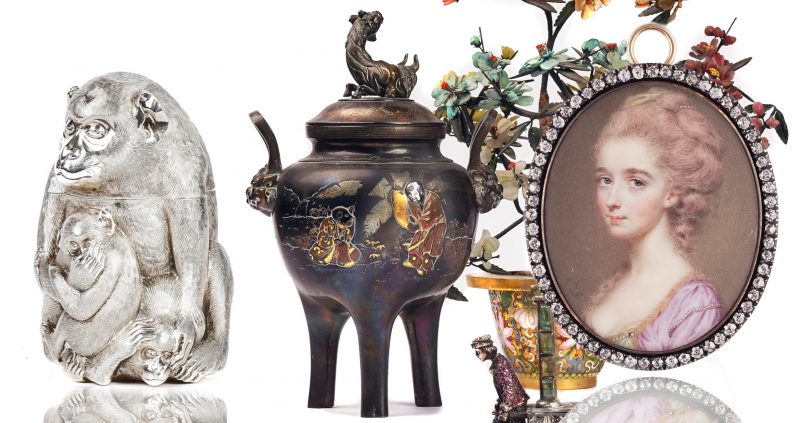 The Gilbert Collection auctions are:

16 November 2021 | The Hylda & Lewis Gilbert Collection of Furniture and Works of Art, West Sussex, 10am
16 November 2021 | The Lewis Gilbert Collection Film Script and Production Archive, West Sussex, 5pm
18 November 2021 | Asian Ceramics and Works of Art, including items from The Hylda & Lewis Gilbert Collection, West Sussex, 10am
18 November 2021 | Silver, including items from The Hylda & Lewis Gilbert Collection, West Sussex, 1.30pm

Further information and auction highlight details regarding The Hylda & Lewis Gilbert Collections are available in our news story. You can also find out more on The Lewis Gilbert Film Script and Production Archive here. If you would like to bid in the auctions please register and bid or to stay updated on our forthcoming auctions, please subscribe to our mailing list via the form below.