The Final Cut | The Lewis and Hylda Gilbert Collection
20 September 2021
Bellmans to sell The Lewis Gilbert Film Script and Production Archive of the three-times James Bond Director & Alfie Director and The Hylda & Lewis Gilbert Works of Art Collection

Bellmans is pleased to announce the auction of The Lewis & Hylda Gilbert Collection on Tuesday, 16th and Thursday, 18th November 2021 in West Sussex. The Gilbert Collection from Sheldrake Place, Kensington, includes The Lewis Gilbert Film Script and Production Archive as well as a substantial Asian Works of Art collection, but also furniture, paintings, miniatures, porcelain and some jewellery and accessories.

Film Director, Producer and Screenwriter Lewis Gilbert (1920-2018), best known for his 007 movies and Alfie, was married to his wife Hylda (1919-2005) for 53 years. Born into an antique dealer's family, Hylda a beautiful, supportive, elegant film director's wife had a career in modelling, but as a theatre lover she was actively involved in spotting potential future films for her husband, a number of which ranked amongst Lewis' most successful titles. Lewis Gilbert made more than 40 films during a directorial career spanning six decades, including three Bond movies - You Only Live Twice (1967), The Spy Who Loved Me (1977) and Moonraker (1979). He had his international breakthrough with Alfie (1966), which also launched Michael Caine's international career.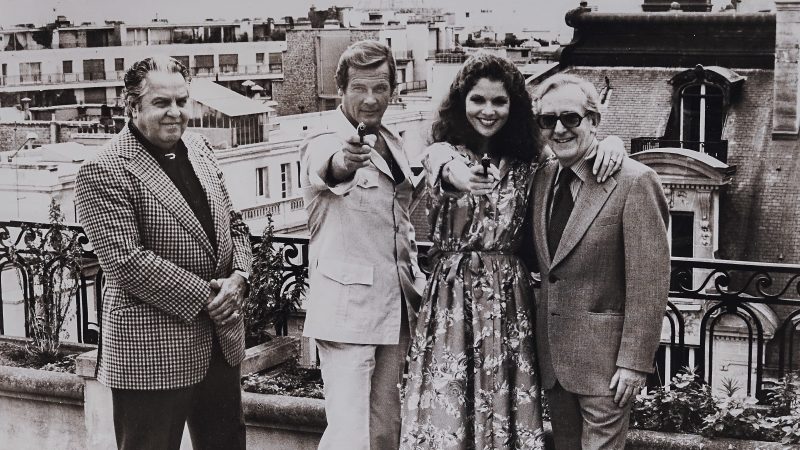 Later successes such as Educating Rita (1983) and Shirley Valentine (1989) further displayed the diverse and prodigious talent and cemented the colossal reputation of Lewis Gilbert. Unlike many other directors he preferred doing small budget films he could produce himself to "secure in the right of final cut" and only made big budget films when he had to. the Bond producers really had to press him to return to film two more 007 movies a decade after his first James Bond title.

Lewis Gilbert had entertainment in his blood. Born into a loving but poor stage family, his father died of TB when he was just seven years old and Lewis became the breadwinner for his mother and sister. His career started early, driving a pedal car around the stage aged four as part of his parents' Variety act, 'The Four Kemptons'. Small parts in films followed, working with famous names of the day, like Will Hay in his Good, Morning Boys series and later with Laurence Olivier. Sir Alexander Korda was instrumental in getting Gilbert into the film world. When Gilbert turned down Korda's offer to send him to RADA, as he wanted to direct films rather than act in them, Korda gave him his first job as a tea-boy on the floor of Denham studios. Gilbert doggedly climbed his way up to the position of assistant director, working under Alfred Hitchcock, the director he later claimed he learned the most from, on the iconic film Jamaica Inn (1939).
In 1939 he joined the RAF, where he was seconded to the United States Air Force and put onto the Film Unit. He was fortunate to be under the command of Colonel William Keighley, a well-known Hollywood director who was shooting documentaries for the US Air Corps. Lewis became his assistant and was given his directing break. He described this moment as "A big step up for me". The Colonel, coming from Hollywood, did not like the cold and preferred to stay in the bar of his Mayfair Hotel in London. He would send Gilbert out to shoot sequences on cold and bitter days and let him go alone to view the rushes. When reviewing one particularly moving scene he had directed, his work was spotted by Arthur Elton who headed a ministerial film division, and from then on Lewis Gilbert's directorial career began in earnest.

Putting his wartime experience to good use, he developed a number of highly successful 1950s heroic war dramas. These included Reach for the Sky, the story of Douglas Bader (1956); Carve Her Name With Pride (1958), the true life drama of wartime heroine Violette Szabo; and Sink the Bismarck (1960), the true story of the British navy's quest to destroy Germany's greatest warship . One of Gilbert's and Paramount Studios' great triumphs followed in 1966 with Alfie, starring a then unknown, Michael Caine. It was Hylda who had been tipped off about Bill Naughton's play (whilst at her hairdresser's) and cannily persuaded her husband to make the film. He quipped that the low budget movie was "the sort of money Paramount executives normally spend on cigar bills".

Hylda had antiques in her blood. Born Hylda Tafler, she had gone to St. Mary's Abbot Primary school in Kensington Church Court near to her father Mark Tafler's fashionable antique shop in Kensington Church Street. Her passion for antiques, eclectic taste and connoisseurship was inherited from her father. His clientele included H.M. Queen Mary, whose keen eye for antiques is well known and the exquisite Gladys, Duchess of Marlborough.
The oasis Hylda created remained absolutely untouched for more than 60 years until Bellmans were commissioned to sell her collections in 2021, 16 years after her death. Her eye was exceptional, she created an extraordinary cornucopia of wonderful things and amusing curiosities that reflected her wide-ranging interests, but Hylda was a particular connoisseur when it came to miniatures (see list of highlights below).
The Lewis Gilbert Film Script and Production Archive is the first substantial private archive associated with a British film director to come up for public auction. Spanning over 40 years of diverse British film classics from one much accoladed director, it embraces several landmarks in British culture and cinema history. The collection largely focuses on Gilbert's major commercial triumphs: Alfie (1966); his three Bond titles: You Only Live Twice (1967) The Spy Who Loved Me (1977) Moonraker (1979); also Educating Rita (1983) and Shirley Valentine (1989). It includes Gilbert's personal scripts, at various stages of a production's development; also correspondence, agreements, press material, some storyboards, stills, contact sheets, snap-shots, premiere programmes and a wealth of associated ephemera (see some highlights below).
Lewis Gilbert was regarded by all who knew him as a true gentleman. He treated everybody on the set in the same way, from the tea ladies to the stars. He was a family man who always made time for his close relatives and friends, some of whom were his actors. He was particularly close to Roger Moore, from their first Bond collaboration in 1977 to his death in 2017, the year before Gilbert. The two shared a sense of humour, which Lewis encapsulated into his direction of Moore's portrayal of James Bond. It was this that Gilbert attributed to the success of the two Bonds he made with Moore, accentuating his difference to Sean Connery and winning everyone over to his 007 successor.

Another great passion in Lewis Gilbert's life was football. In his youth he had even trialled for Arsenal and he continued to support the club for the rest of his life. He would make sure that wherever he was filming in the world, he would be able to follow every Arsenal game by tuning in on his short-wave radio.


THE LEWIS GILBERT FILM SCRIPT AND PRODUCTION ARCHIVE HIGHLIGHTS

Alfie (1966) the film which shot Lewis Gilbert and his unknown lead Michael Caine to international stardom. Alfie was nominated for 5 Academy Awards including: Best Picture for Lewis Gilbert and Best Actor in a leading role for Michael Caine. It won 3 BAFTAs including Best British Actor for Michael Caine; and was nominated for 3 others including Best British Film for Lewis Gilbert. At Cannes, Lewis Gilbert with Alfie won the Jury Special Prize and was nominated for the Palm d'Or. The film also won 4 Golden Globes including Best Director for Lewis Gilbert and Best Actor for Michael Caine, and was nominated for 3 others.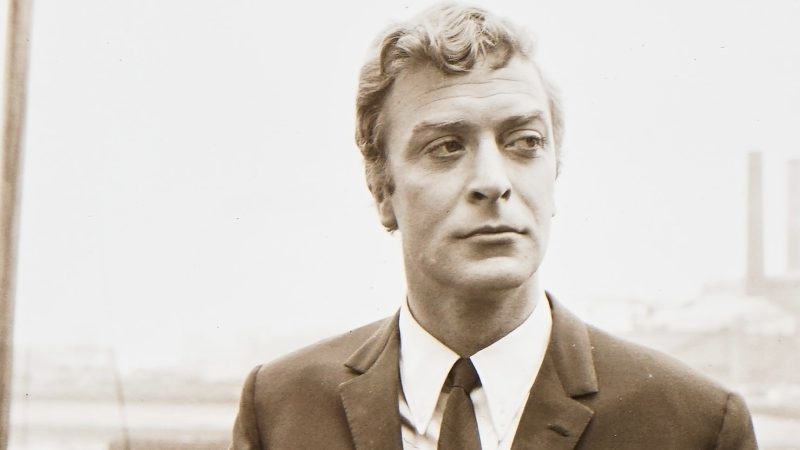 Alfie is represented by a handful of lots in the auction including: Gilbert's personal copy of the film script, and a shooting schedule, as well as correspondence with the script's author Bill Naughton, and other exchanges Gilbert had over who should play the role of Alfie, carries an estimate of £2,000 - £3,000. Also, a folder of 71 black and white contact sheets of photographs, mostly taken on set and showing the key actors, is expected to fetch £1,500 - £2,500. Gilbert's copy of the original cinema poster is estimated at £600 - £800.
Alfie's success brought Gilbert his first Bond film You Only Live Twice (1967), followed a decade later by The Spy Who Loved Me (1977), and by Moonraker (1979) two years after that. You Only Live Twice, the first of Gilbert's 007 hat trick is represented by two lots in the archive, an original typescript of the screenplay written by Roald Dahl inscribed inside with the director's name and including minor annotations is estimated at £3,400 - £5,100 and a unique scrapbook including press clippings and ephemera such as premiere tickets, photographs and telegrams is expected to fetch £600 - £800.
Gilbert's second Bond film The Spy Who Loved Me (1977), probably the best of the Roger Moore-era Bonds, has the largest number of scripts associated with a single film title in this archive. One script, labelled 'Mr Lewis Gilbert' with an alternative ending to the screenplay and minor annotations, carries an estimate of £1,500 - £2,500; and a fourth draft inscribed with producer Michael Wilson's name is estimated at £2,000 - £3,000. The final shooting script from 12 July 1976, with a call sheet, and a handwritten list of times and characters, as well as a copy of a memo addressed to Albert Broccoli, and a note about ski equipment needed for filming, is estimated to sell for £3,500 - £5,500. A large folder containing xeroxed storyboard drawings on thick card carries an estimate of £700 - £900. Gilbert's third Bond film Moonraker (1979), his second with Roger Moore as 007, is represented by one lot in the Archive. It comprises an original film script, and a press still of Roger Moore with Lois Chiles, Lewis Gilbert and Cubby Broccoli and is estimated at £2,500 - £3,000.
Gilbert's powerful and multiple award-winning screen adaptations of two Willy Russell plays, Educating Rita (1983) also with Michael Caine and co-starring Julie Walters; and Shirley Valentine (1989) starring Pauline Collins, are represented by several lots in the auction. Two rare photo albums compiled by Hylda Gilbert whilst on location with her husband in Ireland for Educating Rita include a number of unpublished images, some of these of Julie Walters in hair and make-up preparing for her lead role as Rita, the albums are expected to sell for £800 - £1,200.
Educating Rita was nominated for 3 Academy Awards including Best Actor and Actress in a leading role for Caine and Walters. It won 3 BAFTAs including Best Film for Lewis Gilbert, Best Actor and Actress for Caine and Walters and was nominated for three others. It also won 2 Golden Globes for Best Performance by an actress and actor in a comedy or musical for Julie Walters and Michael Caine, and was nominated for two more.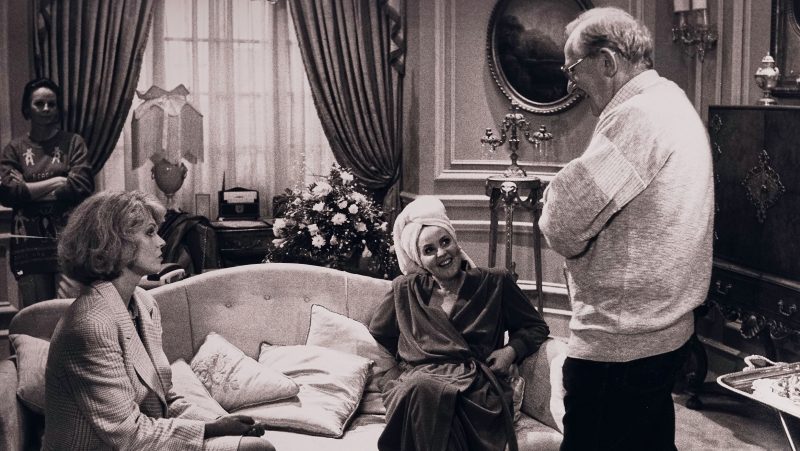 Pauline Collins won the BAFTA for Best Actress for Shirley Valentine. The film received a number of prestigious accolades including two nominations for Academy Awards. Other lots in the auction represent Lewis' string of successful 1950s/60s war dramas. Script titles include: Reach For The Sky (1956), Carve Her Name With Pride (1958) and Sink The Bismarck (1960). A number of mixed lots spanning Lewis Gilbert's long and varied career from the 1970s to 2002 are also included.


THE HYLDA & LEWIS GILBERT COLLECTION HIGHLIGHTS

An unusual pair of early Victorian carved giltwood sofas on splendid lion monopodia supports in the manner of Gillows of Lancaster is estimated at £3,000 - £5,000, while a set of four monochrome porcelain panels depicting Hagar and Ishmael and other unclothed nymphs and cupids set the scene perfectly in the Hall and carries an estimate of £1,000 - £1,500. The Drawing Room contained a remarkable assemblage with a good bonheur du jour inset with Sevres-style plaques (estimate £1,000 - £1,200) amid several pieces of Louis XV style furniture and an elegant (and more importantly comfortable!) Knole sofa with a pair of armchairs en-suite, the green velvet-upholstered backs decorated with striking needlework panels (estimate £200 - £300/ £100 - £200). A pair of fine Kirman carpets woven in rich colours carries an estimate of £500 - £800.

Hylda particularly liked boxes, including a pretty silver and tortoiseshell snuff-box inset with a superb Roman polychrome micro-mosaic butterfly (estimate £300 - £500), to which the perfect foil was the mid-Victorian bombe tortoiseshell sewing-box with exceptional mother-of-pearl inlay (estimate £500 - £800). Ten pairs of lorgnettes (estimate £600 - £1,000) were displayed near a Napoleon III gold-mounted cameo mourning brooch (estimate £500 - £800) and an Indian gold oval repousse locket with a fine miniature of the Taj Mahal (estimate £300 - £500).

A Dutch-style mahogany silver canteen, lavishly mounted in ormolu (estimate £3,000 - £5,000), contained many delightful silver trinkets and bagatelles, each and every one lovingly chosen by Hylda. A large late 19th century Berlin plaque of the expulsion of Hagar is an eminent example of its genre and estimated at £4,000 - £6,000. Chinese snuff-bottles (ranging from £1,000 to £1,800) complement blanc de chine figures of Guanyin (estimate £200 - £300), goddess of compassion, and a pair of cloisonné enamel barrel-shaped garden-seats, decorated with peonies, scrolls and pierced with 'mons' is exceptional and expected to fetch £2,500 - £3,500, as well as a pair of Chinese mandarin palette rectangular panels from the late 18th century (estimate £1,500 - £2,500). A Japanese Meiji period novelty silver tea caddy, modelled as a monkey cradling it's infant from circa 1900 and 10cm high is expected to sell for £1,500 - £2,500. The noble pair of Dresden raspberry-ground vases and covers painted with vignettes of courtly couples, with blue Augustus Rex marks beneath, is estimated at £500 - £700. Hylda's collection of important miniatures includes several by John Smart, with the top lot expected to sell for £4,000 - £6,000.

This gives you a good idea of how Hylda created such a fantastic Aladdin's cave and how much she enjoyed displaying so many singular objects of art and antiques and placing them in an almost operatic setting that mirrored her delight in the unusual and amusing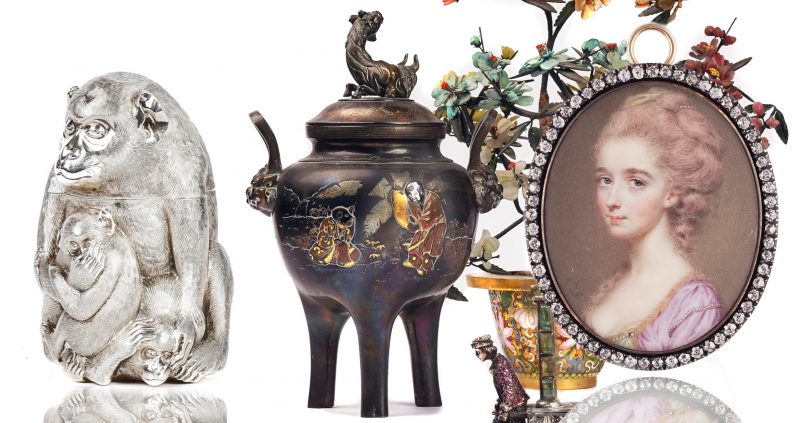 The Gilbert Collection auctions are:
16 November 2021 | The Hylda & Lewis Gilbert Collection of Furniture and Works of Art, West Sussex,10am
16 November 2021 | The Lewis Gilbert Collection Film Script and Production Archive, West Sussex, 5pm
18 November 2021 | Asian Ceramics and Works of Art, including items from the The
Hylda & Lewis Gilbert Collection, West Sussex, 10am
18 November 2021 | Silver, including items from the The Hylda & Lewis Gilbert Collection, West Sussex, 1.30pm