The Collection of Professor Jonathan and Mrs Deanna Brostoff
03 May 2023
Bellmans Auctioneers are delighted to offer for auction selected items from the estates of the late Professor Jonathan and Mrs. Deanna Brostoff.
Professor Jonathan Brostoff, MA, DM, DSc(Med), FRCP, FRCPath, FIBiol, was one of the leading figures in the medical area of allergy and clinical immunology. As well as treating patients internationally, he was a well-known lecturer and author of many books covering food allergies, intolerances, anaphylaxis and auto-immune disorders. Meanwhile Deanna played a unique role in the West End theatrical scene, known for catering the launch parties of several productions held at Cameron Mackintosh's theatres, including Cats and Miss Saigon. As well as catering for hundreds of social and executive functions she wrote a cookery book designed for small kitchens, after retirement she became an active volunteer at the British Museum, particularly helping in the Greek and Roman department.
Together at their beautiful home they collected art and antiques from around the world. The flat on Fitzjohn's Avenue, Hampstead was formerly the residence of society artist Count Nicholas Egon (1921-2017), who was well known for painting the most beautiful women of the day, including members of the Greek Royal family and Helen Mirren whom he 'scouted' at a local restaurant and approached her to sit for him. A pencil drawing of an elegant lady is offered in our May Modern British sale lot 43 with an estimate of £100-£150. You can see the same flat being used by Egon in the 1950s as his studio here: https://www.britishpathe.com/asset/82275/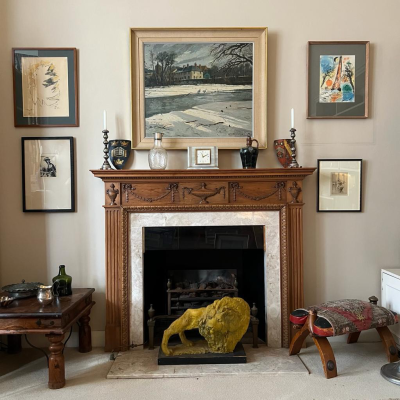 A further selection of Mrs Brostoff's jewellery will be sold in our June 'Interiors' auction and rare medical books from the Professor's library in our July 'Printed Books, Manuscripts and Maps' auction.
For further information about any lots in the sale please contact [email protected]