Chris Bracey | The Master of Glow
13 April 2022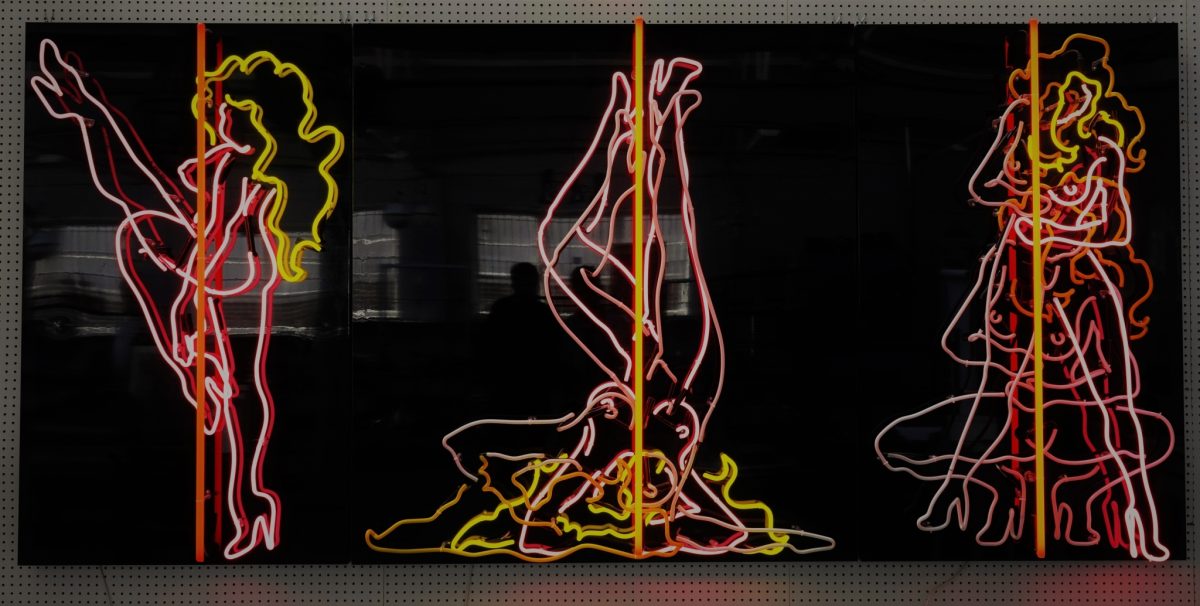 Bellmans is delighted to present its Modern British & 20th Century Art auction, including Property from the Collection of Darren Shan, 10th May 2022, from 2pm at the West Sussex Auction Room. This wonderfully eclectic collection features many mediums and includes neon art from collector and artist, Chris Bracey, also widely known for turning neon into an artform. Lot 204, the iridescent neon sign, Pole Dancers, is a fabulous example of Chris Bracey's work.
Born in London in 1954, Chris Bracey studied art at college before joining the family firm, Electro Signs. Bracey went onto design the majority of neon signs that defined and lit up the sex clubs of Soho in the 1970s. He was commissioned to design the neon in the 1986 film Mona Lisa directed by Neil Jordan, leading to further work on such seminal movies as Blade Runner, Eyes Wide Shut and The Dark Knight.
Later in his career he created a monumental lightning bolt for the 2013 Bowie exhibition at the V&A as well as a neon 'Roc Nation' for Jay-Z's record label. Bracey was an avid collector of his medium, housing hundreds of vintage neon signs in his studio gallery, 'God's Own Junkyard', in Walthamstow.
His patrons included famous celebrity models, singers and actors including Kate Moss, Jude Law, Elton John and Lady Gaga and in 2013, the artist known as 'Neon Man' and the 'Master of Glow', held his first solo show 'I've Looked up to Heaven and been down to Hell' at Scream, London.
Reflecting on his artistry Bracey observed,
"Neon has a soul, it lives at night creating poetry with light, promising love in Soho or hot bagels all night."
Modern British and 20th Century Art, Including Property from the Collection of Darren Shan, 10 May 2022 from 2pm is open online to browse & bid from 26 April 2022 and will be open to view in person at Bellmans' West Sussex auction room from 6 May 9am.

Read More on the Darren Shan Collection