Box of Delights | The Hylda and Lewis Gilbert Collection of Furniture and Works of Art
15 November 2021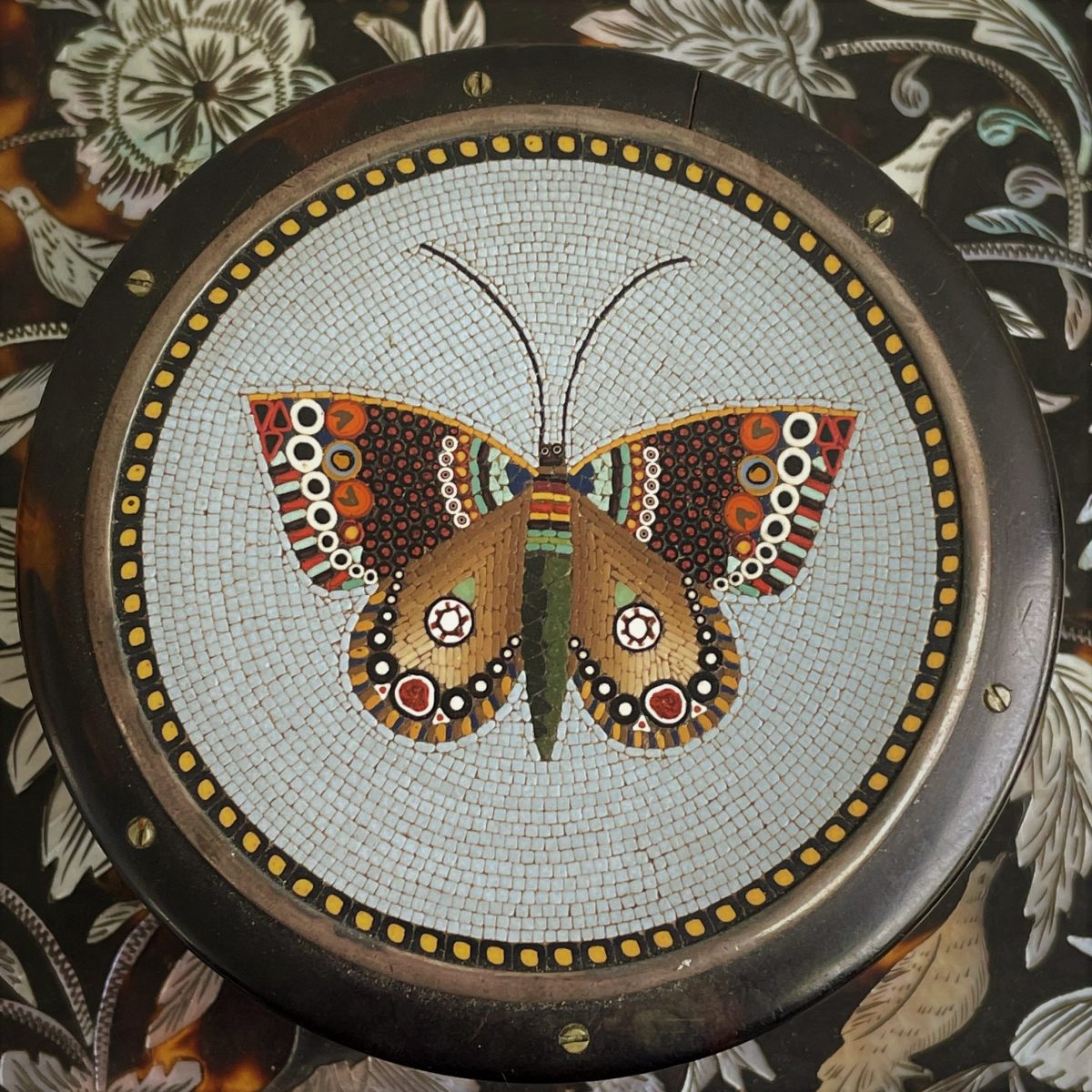 One of the many fascinating facets of this upcoming collection sale of The Hylda and Lewis Gilbert Collection is the variety of intriguing boxes. These structures designed to purposefully house their contents, also manifest into extraordinary art forms – expressing a wider world of aesthetic, social, cultural and technical history but all in miniature.
A wonderful example is the first lot in the sale, a William IV tortoiseshell veneered and intricately inlaid mother-of-pearl work box. Each element is designed to be useful; from the discretely opening pagoda top, to the trays of sewing contents down to the sprung writing slope complete with ink wells, finished with ruched silk linings. Sewing, painting, music and writing were considered critical skills for a woman of any aspiring social status, even up until the early 20th century. The box reflects this through its combined use of exotic materials and fashionable Classical Roman inspired design, enriched with floral detail emulating fabric patterns of the period. One can imagine that this 'lady's companion' and its owner were once of high status.
Needlework was considered the most important skill, even from a very young age girls were expected to prepare complex samplers. The ability to sew represented a capacity to provide for the household and manage it. There are a number of smaller, portable needlework cases in this collection, known as étuis, and nécessaires which were to be placed on a table. (Lots 2, 4, 75, 162, 163 & 164)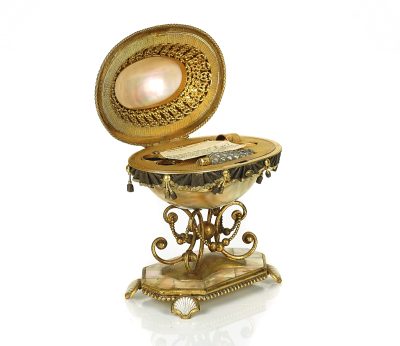 Tea was long established as a precious commodity and drinking it a refined activity from the early 18th century onwards. The word 'caddy' is derived from the Malay/Chinese word 'Kati, as documented in Worlidge's Dictionary, 1704, and refers to a quantity of leaf held in a caddy. The boxes or tea chests holding this scared commodity, often under lock and key, evolved into the admired forms of the Regency era. Lot 3 is a good example, designed with two compartments, lined with a silvered foil to keep the contents fresh and odour free.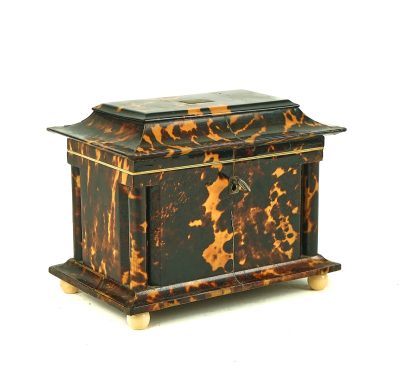 Papier-mâché was a versatile material that reached its peak use by the early Victorian era, featuring widely in the Great Exhibition of 1851. It evolved in Britain from the mid 18th century as an off shoot to the japanning process, initially engineered in Europe to imitate expensive Japanese and Chinese lacquer. Papier-mâché leant itself readily to decoration; painting, gilding and mother-of-pearl inlay. The work box here (lot 54), is a good example with the lid painted to replicate one of Edward Landseer's famous Scottish Highland scenes, 'The Deerstalkers' Return', originally painted in 1827. Landseer was one of the most popular artists of his day, transcending class boundaries; prints and copies of his work adorned middle-class homes, whilst he was one Queen Victoria and Prince Albert's favoured artists, painting numerous portraits.
Finally, the last lot (174) in this collection sale is a beautiful butterfly Italian micro-mosaic and tortoiseshell snuff box. Snuff taking was a hugely significant ritual, of social and economic significance, revealed in many ways through the enrichment of the box. The glass micro-mosaic technique developed in the 18th century, in the Vatican Mosaic Workshop in Rome, although precedents were in Ancient Rome. The smallest of glass pieces or tesserae, sometimes up to 5000 pieces per square inch, were arranged to create a picture or in this instance, a specimen from the natural world.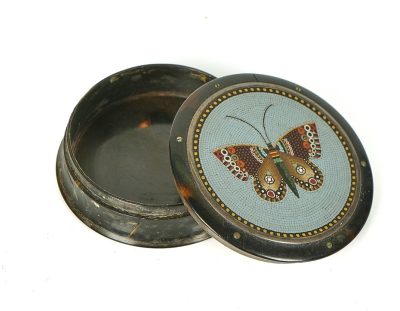 These boxes offer a glimpse into a wonderful and magical world, presenting the chance of discovering a secret drawer or hidden compartment and, also, at the same time are pieces of unique history for either the collector or interior decorator today.
Article courtesy of Pippa Green, Bellmans' Furniture and Works of Art specialist.
All lots showcased in this news story will be featured in The Hylda and Lewis Gilbert Collection of Furniture and Works of Art auction at Bellmans, West Sussex, 16 November at 10am.